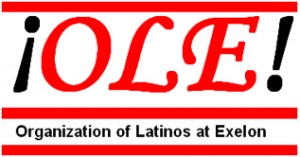 Veronica Ibarra, an Armour College of Engineering student (BME 4th Year), has been selected as a recipient of the 2014 Organization of Latinos at Exelon (OLE) Scholarship. She was one of 15 individuals selected to receive the scholarship out of a pool of 90 Illinois students who applied. Ibarra, along with the other recipients, will be recognized at an awards ceremony on Wednesday, October 15, 2014. She will also meet company executives and vendor sponsors at an annual golf outing on Saturday, September 13, 2014.
OLE has been able to provide scholarships totaling more than $200,000 to deserving students over the last 10 years. The OLE Scholarship was established to help students gain access into post-secondary education and stay in their respective institutions.
As an employee resource group within the Exelon family of companies, OLE exists to assist Exelon and its operating companies in achieving its strategic business goals. These goals include diversity and inclusion, fostering employee career development, and maintaining a strong presence in the Latino community by utilizing the talent of OLE member employees.