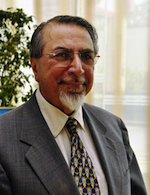 IIT Armour College of Engineering kicks off the Armour Distinguished Alumni Lecture Series on Tuesday, September 13, when they welcome Gautam Mahajan (MS MEC '70), expert in strategy, general management, and globalization, who will present the lecture "Back to Engineering Basics: The plastic soft drink bottle." This free lecture will be held from 3 – 4 pm in the Hermann Hall Ballroom, and is open to the entire IIT community.
In his presentation, Mahajan will discuss how returning to engineering basics helped to develop a new petaloid base, which is found on the bottom of today's soft drink bottles. He will also discuss the business component of developing new products, including the introduction of the half-liter PET bottle, and will provide examples of his noise control patents and aseptic form fill and seal patents.
Mahajan is president of the Indo-American Chamber of Commerce and currently serves as president of Inter-Link Services Pvt. Ltd., an international consulting firm that helps companies become established in Asia and India, specifically regarding entry strategy, technology transfer, marketing, business development, and operations.
For 17 years Mahajan ran the plastics businesses of Continental Group, which was the world's largest packaging company. In addition to his master's degree in mechanics and Ph.D. coursework at IIT, Mahajan received an MBA from Suffolk University as well as fellowships from Harvard Business School and IIT. He was the recipient of the 2000 IIT Distinguished Alumni Award. He holds 18 US patents.
Please RSVP for the Armour Distinguished Alumni Lecture here.