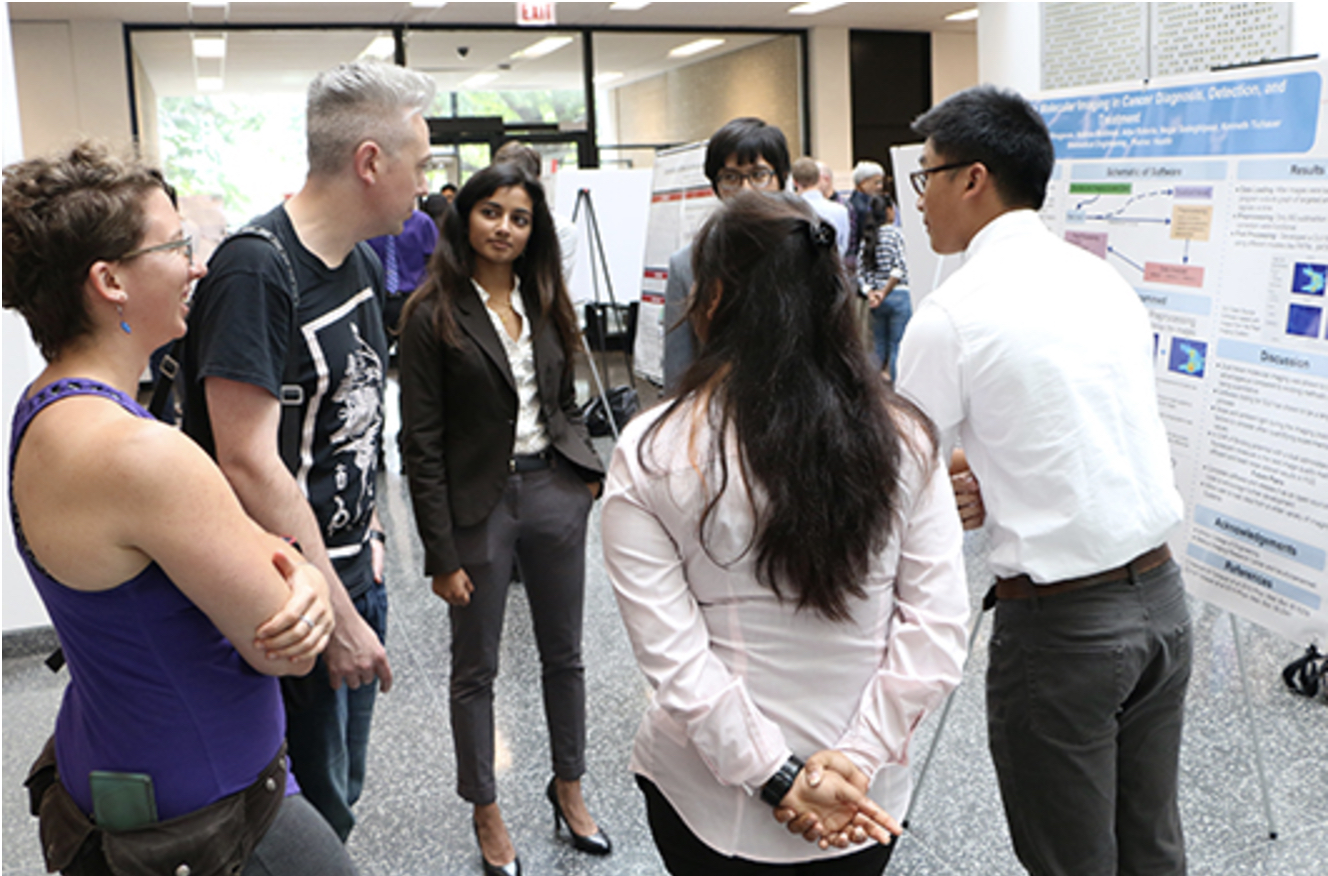 The 2017 Armour R&D Summer Research Immersion Program offered engineering undergraduate students a complete understanding of the research and development process. Participants gain this experience while being enveloped in the burgeoning global tech scene in Chicago.
The competitive program featured a diverse range of engineering research projects that were conducted under the guidance of faculty mentors across all engineering disciplines. Participants explored varied topics such as cancer imaging, sustainability, electric vehicles, nanomaterials, tissue engineering, and robotics.
Students selected to participate in the program spent 20 hours each week, for eight weeks, working on their research projects individually or as part of a small team under the direct supervision of their faculty mentor. Participants learned about neural engineering, robotics, graduate school, laboratory safety, and how to present their research findings during weekly seminars. The undergraduate researchers earned three credits for their efforts and gained valuable insight into the R&D process.
Armour College of Engineering first offered the Armour R&D Summer Research Immersion Program during the summer of 2014. The initial program brought Brazilian students studying in the U.S. as part of the Brazilian Scientific Mobility Program to Illinois Tech to gain a real research experience. The research conducted that summer resulted in two publications by the students who participated in the program.
In order to promote collaboration and enhance Illinois Tech's status as a global campus, the program was expanded to include domestic and current Armour students in the summer of 2017. Eleven of the international students in the 2017 program joined through a partnership with Birla Institute of Technology (BIT), Mesra.
The 2017 program was a success and has already resulted in one student, Wesley Lo (BME 4th year), being selected to present his research at BMES 2017, the annual meeting of the Biomedical Engineering Society. The project, "Modeling Dual Delivery of Proangiogenic Peptides from Hydrogel Biomaterials for Neovascularization of Ischemic Tissue," was conducted under the guidance of Associate Professor of Biomedical Engineering Georgia Papavasiliou. Lo and Papavasiliou worked to learn if a controlled delivery of pro-angiogenic and vessel stabilizing peptides from hydrogel nanoparticles allowed for rapid and sustained in vivo neovascularization in a subcutaneous rat implant model.
"This unique program provided me the opportunity hone in on what excites me about research and development," shares Lo. "It has opened the doors to future success by providing rich learning experiences both inside and out of the lab, as well as a strong foundation of the R&D process in any discipline."
The program culminated in the Summer 2017 Armour R&D Expo on July 13, where students held a poster presentation highlighting the results of their research. The undergraduate researchers shared the findings of their work and displayed the devices they had developed with students, alumni, faculty, and staff who were in attendance.
"The biggest take-away from the program was that it really helped sharpen my vision and passion for what I want to do post-graduation," shares Lo.