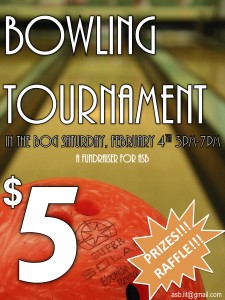 Alternative Spring Break (ASB) will be hosting a bowling tournament from 3 – 7 pm on Saturday, February 4 in The Bog.  Proceeds from the tournament will go toward the trip to Valdosta, Georgia to work with Habitat for Humanity.
For $5, you will receive unlimited games, shoe rental, entry into the tournament and entry into a raffle.
Only the scores from the first game will be entered into the tournament. Prizes will be awarded to top three scores. A raffle will be held for a fourth prize!
Turn up the heat! Bring all of your friends!
*Signup will occur the day of the event.
Contact asb.iit@gmail.com with any questions.