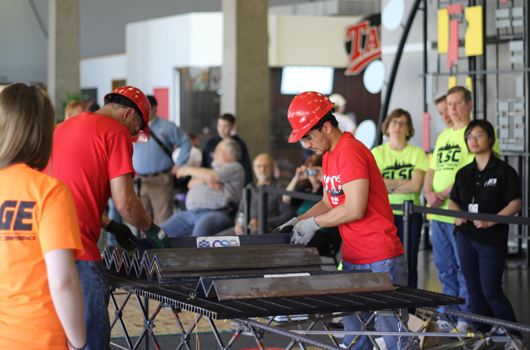 The American Society of Civil Engineers (ASCE) Great Lakes Student Conference was held on Illinois Institute of Technology's Main Campus from April 14-16. Illinois Tech's ASCE Chapter not only hosted the conference, but competed in the contests as well. The Steel Bridge Team took second place overall, earning the opportunity to compete in the National competition to be held at Brigham Young University in Provo, Utah from May 27-28. Other successes included ASCE chapter member, Khadijah Nesbitt's (ARCE 3rd year) third place win in the Technical Paper contest.
During the conference, 19 neighboring schools converged at Illinois Tech. Hosting the event was a first for the chapter. The student-run programing committee worked for over a year and a half planning the competitions, a lecture by AZZ Galvanizing, a Network & Chill event, and an awards banquet at the Shedd Aquarium. The opportunity provided a great leadership experience for all involved.
A conference favorite is the Concrete Canoe Competition. Although the Illinois Tech students were well prepared, their canoe was unable to withstand the competition. "Even though our canoe failed at the conference, it was an amazing sight to see the wide variety of concrete canoes. We learned a lot from the experience and made a lot of great memories," mentions Daksh Patel (CE 2nd year).
The conference was a high point of the Illinois Tech's ASCE chapter's year. The group's foresight is focused on the national competition, but everyone is looking forward to next year's conference to be held at Milwaukee School of Engineering and the prospect of bringing home a few more awards. For more information on ASCE-IIT, you can contact them through email via asceiit@gmail.com.
For more information on all the competitions held and final results visit glsc2016.org