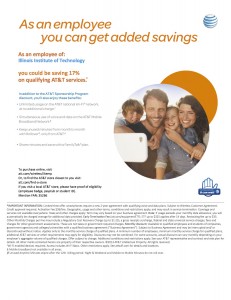 Illinois Institute of Technology employees and students can save up to 17% on qualifying AT&T wireless services through the AT&T Sponsorship Program.
Discount Information:
Employee discount 17% off qualifying monthly service fees
Student discount 10% off qualifying monthly service fees
Ordering online through Premier provides additional benefits, which may include discounted equipment prices, credits or waivers

Access the Premier site below… if you put in your zip code, continue, and click on online offers at the top it will bring you to the page stating what promotions and promotional offers are available.
Getting the Discount: Faculty, staff and students can shop for new phones, devices and plans as well as migrate an existing AT&T account to take advantage of the discounts.
Employees: www.att.com/wireless/iitemp
Employee FAN Number: 35266
Students: www.att.com/wireless/iitstudents
Student FAN Number: 3779308
You can also visit a retail store to make your purchases. Just bring in your IIT ID. To save time, also bring the FAN number (see above).
If you have additional questions please contact AT&T Customer Service at 800.331-0500.
Not sure if you're taking advantage of the discount already? Access this link and enter your cell phone number and IIT email address. The employee is required to be the primary line on the account and is required for the validation process. The discount is available to AT&T customers who are under contract.
Download employee information brochure