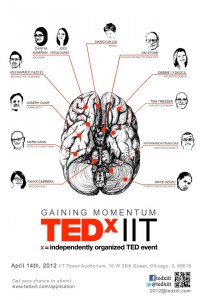 Watch TEDxIIT 2012 live online at TEDxIIT.com this Saturday, April 14 from 9:30 am – 5 pm.
The lineup of speakers includes Harvard graduate and businessman Jim Stone, overseer of IIT Stuart School of Business and Director of the Knapp Institute; IIT alumni Marc Hans, a Golden Apple Fellow; Muhammed Fazeel, a recipient of Governor Pat Quinn's "Fifty for the Future" Award, just to name a few.
Visit the TEDxIIT website for more details and updates.
This independent TEDx event is operated under license from TED.
© 2012 TEDxIIT