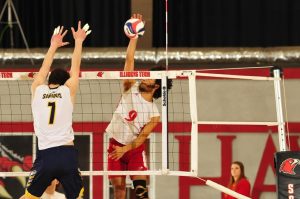 The Illinois Tech Men's Volleyball team opposed Augustana College and St. Ambrose on February 24. Illinois Tech fell to the Vikings 3-2 and the Fighting Bees 3-0, moving to 7-11 on the season.
Scores
Augustana 3, Illinois Tech 2 (24-26, 21-25, 25-17, 25-16, 11-15)
St. Ambrose 3, Illinois Tech 0 (24-26, 14-25, 19-25)
How It Happened – Augustana Match
The Vikings were able to narrowly defeat the Scarlet Hawks in the first two sets despite Illinois Tech's offense outhitting Augie in both, as the Hawks recorded .257 and .222 hit percentages.
In sets three and four, Illinois Tech's offense began to overwhelm the Vikings, hitting an astounding .440% and .338% to win both sets comfortably.
Set five was Augustana's best offensive set of the game, finally outhitting Illinois Tech with a .500 hit percentage. The Vikings built a 5-1 lead, from which the Scarlet Hawks were unable to recover.
Scarlet Hawk Standouts – Augustana Match
Stats to Know – Augustana Match
The Vikings outdid the Hawks 7-1 in service aces.
Despite the loss, Illinois Tech hit .311% compared to Augie's .189%.
The hit percentages led to a 60-46 kills advantage for the Hawks.
How it Happened – St. Ambrose Match
Illinois Tech's first set was its best of the match, and while STA led 11-6 early, a 4-0 run highlighted by kills from Coe and Easton Kays pulled the Hawks to within one at 17-16. The teams then traded the next 14 points until a Bee attack error tied the set at 24-24. STA scored the final two points on a kill and an ace to win set one.
The momentum carried into the next two sets for the Bees. St. Ambrose built a 15-7 lead in the second set, propelling the team to a dominant win. Set three was similar, with the hosts leading 14-8 early on and never relinquishing.
Scarlet Hawk Standouts and Stats to Know – St. Ambrose Match
Coe (nine) and Kupiec (seven) led the team in kills. Peschl (13) led the squad in assists. Robeck (three) was the leader in blocks. Coe also totaled two service aces.
St. Ambrose hit to the tune of .341% while holding Illinois Tech to .056%.
The Fighting Bees doubled the Scarlet Hawks in aces 6-3.
Up Next
Illinois Tech will head south to Trinity Christian in Palos Heights, Illinois, on Wednesday, February 28 for a 1 p.m. match.