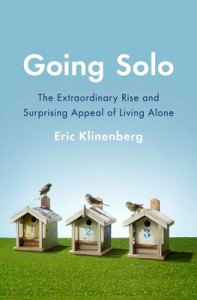 Acclaimed sociologist and Chicago native Eric Klinenberg will discuss Going Solo: The Extraordinary Rise and Surprising Appeal of Living Alone from 12:40-1:50 pm on Thursday, March 8 in the MTCC Auditorium. The lecture, sponsored by IIT College of Science and Letters Department of Social Sciences, is free and open to the public.
Klinenberg's newest book explores one of the biggest demographic shifts since the baby boom: the extraordinary growth in the number of people living alone. In the United States, four million people lived alone in 1950, but 31 million live alone today – mostly women in cities, and by choice. Klinenberg will talk about how the demographic change is affecting culture, business and politics. He also will debunk myths about living solo, such as that people who live alone are lonely – most are more engaged in social and civic life than their married counterparts, Klinenberg says – or that young people can't afford to live alone.
Klinenberg is professor of sociology, public policy, and media, culture, and communications at New York University, and editor of the journal Public Culture. He won multiple awards for his book Heat Wave: A Social Autopsy of Disaster in Chicago, about the 1995 heat wave that killed 739 people, many living alone.
Please call 312.567.3132 with questions.