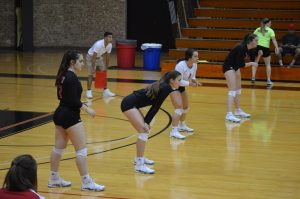 The Illinois Tech Women's Volleyball team hosted Moody Bible Institute on October 13 and notched its 10th win of the season. On October 14, the team followed up with another victory over Kalamazoo College.
Scores
Illinois Tech 3, Moody 0 (25-13, 25-12, 25-18)
How it Happened – Moody Bible
The Scarlet Hawks dominated from the start, building a 11-1 lead to force a Moody Bible timeout. The Archers never recovered from the slow start and Illinois Tech cruised to a set one victory.
Set two featured more of the same, as the Scarlet Hawks started things with a 6-0 run. Moody pulled within three, but Illinois Tech remained steady and built the lead to double-digits late. Kills from Lydia Goebel and Leah van der Sanden iced the set.
In set three, the Archers scored the first three points, but the Scarlet Hawks responded with a 7-0 run fueled by two Alyssa Miner kills. Moody came back to pull to within one at 15-14, but Illinois Tech regrouped and clinched the match victory on a Justine Bracco kill.
Scarlet Hawk Standouts
Sara Hassell led the team in kills (nine) and hitting percentage (.421%). She also had a solo and an assisted block.
Goebel had one of her best matches, tallying five kills and a .231 hitting percentage.
Miner had six kills, a .286 hitting percentage, and two block assists.
Caitlyn Kenneally had four kills, a .375 hitting percentage, and two block assists in one of her best collegiate matches.
Courtney Curcio had team-highs in digs (13) and aces (four).
Stats to Know
The Scarlet Hawks dominated on the attack with 31 kills and a .253 hitting percentage. Moody hit just -.071% with 16 kills.
The Scarlet Hawks recorded eight aces.
Illinois Tech is now 10-14 on the season.
How It Happened – Kalamazoo
Illinois Tech got off to a great start, breaking out 6-0. The Hornets were able to tie the set at nine after several Illinois Tech errors. The Scarlet Hawks rebounded with a 14-3 run behind three kills from Hassell and consistent serving from Reya Green and Natalie Freund. Illinois Tech closed out the first set 25-20.
The Scarlet Hawks began the second set much like the first, with four straight serves from Green. Taylor Burton recorded back-to-back kills to get the Scarlet Hawks up 12-5. Illinois Tech cruised to an easy 25-12 victory behind two more kills from Burton and more great serving from Curcio and Freund. Hassell also added five kills.
Kalamazoo came out strong in the third set, keeping the score close and shifting momentum often. Maria Katrantzi finally got going with three kills and Maddie Goodman added two more plus three digs. Illinois Tech's defense was able to hold together with help from Courtney Darling's nine assists and rally back to a 21-21 tie. The team closed out the set and match 25-22.
Scarlet Hawk Standouts
Burton had 11 kills on a .417 kill percentage and three block assists.
Hassell had a team-leading 15 kills, 11 assists, and three block assists.
Darling had a team-high 20 assists with seven digs.
Freund had 13 assists and eight digs.
Stats to Know
Kills were in favor of Illinois Tech (40-30).
Illinois Tech also led in kill percentage (.243 to .026).
The Scarlet Hawks led 14-4 in block assists.
Illinois Tech also led in assists (39 to 23).
Up Next
Illinois Tech will host St. Mary of the Woods on Friday, October 20 at 7 p.m. at Keating Sports Center. Live audio, video, and stats will be available. The live audio will be powered by Illinois Media School.