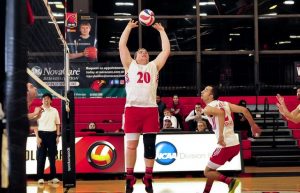 The Scarlet Hawks avenged a road loss from earlier this season on February 22 in the Keating Sports Center. Illinois Tech downed the Trolls in straight sets at home, evening the season series with the Palos Heights, Illinois, school.
Set Scores
Illinois Tech 3, Trinity 0 (25-21, 25-16, 25-19)
How it Happened
It was a back-and-forth beginning to the match, as no team led by more than two until a four-0 run propelled the Scarlet Hawks to a 15-12 advantage. The Trolls were able to work back, tying the score at 19-19 and then again at 20-20. Illinois Tech closed the first set on a 3-0 run to win, highlighted by kills from Yuriy Shepta and Evan Robeck.
The momentum at the end of set one carried over into set two. Illinois Tech scored the set's first five points and led by as much as 13 (22-9). The Trolls attempted to make a late comeback and pulled to within eight at 24-16, but another Shepta kill iced the set.
In set three, the Scarlet Hawks once again jumped out ahead, this time leading 6-1. The Trolls attempted to stay close to the Hawks throughout, but could never get any closer than three points (8-5). A Robeck kill gave Illinois Tech the 25th and final point.
Scarlet Hawk Standouts
Lukasz Kupiec recorded another double-double with a team-high 12 kills (.333%) and 15 assists.
Robeck had 10 kills and a team-high .368 hitting percentage. He was also the only player in the match to record multiple blocks (one solo, one assisted).
Shepta tallied eight kills and a .300 hitting percentage.
Michael Drews was the only player with two aces in the match.
Andrew Woltman tallied 15 assists as well.
Derek Bostick led all players with 19 digs.
Stats to Know
Illinois Tech outhit the Trolls .212% to .032% and had 37 kills compared to TCC's 21.
Neither team recorded many aces, but Illinois Tech had a slight advantage over Trinity Christian (3-2).
Up Next
The Scarlet Hawks will host Adrian College on Friday, February 24 at 5 p.m.. Live audio, video, and stats will be available. The live audio will be powered by Illinois Media School.