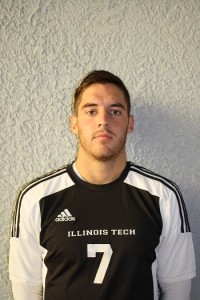 Liam Barrett a senior who hails from Felixstowe, England was named the Chicagoland Collegiate Athletic Conference Player of the Year for the second time in his Illinois Tech career. Barrett, a Forward, previously earned the honor in his sophomore season. Liam who compiled a very impressive season concluded the year with 17 goals, 6 assists, and a team high 40 points in his 18 games played.
Barrett led the CCAC in the following categories: Points, Points per game, Goals and Goals per game. He was an unselfish player as he also finished in the top ten of conference categories in Assists, Assists per game and Game winning goals.
Barrett was also a spectacle on the national stage with in the NAIA this season where he was consistently found in the top 20 for Points per game, Points, Goals per game and Goals scored. He also finished in the top 10 of the nation for Shots per game and Shots on goal per game.
Congratulations go out to Liam Barrett and also to Scarlet Hawk Robert Rixer (Perth, Australia) who was named to the CCAC 2nd Team as a midfielder. Rixer finished the season with 8 Goals, 2 Assists, 18 total points and one game winning goal. Rixer also is not new to the CCAC podium as he was the Freshmen of the Year in 2010 and 2nd Team All-CCAC.