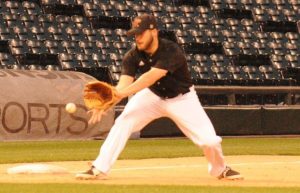 The Illinois Tech Baseball team played its first game since 2015 on March 4, hosting Robert Morris-Peoria at Ed Glancy Field. In some frigid conditions, the Scarlet Hawks squandered a late lead and fell to the Eagles 10-4.
Runs-Hits-Errors
Eagles (1-0) 10 runs, 13 hits, 2 errors
Scarlet Hawks (0-1) 4 runs, 3 hits, 4 errors
How it Happened
The Scarlet Hawks scored some unconventional runs in this ballgame, starting in the second inning on a bases-loaded balk. Illinois Tech scored in the bottom of the second without the use of a hit to take a 1-0 lead.
Illinois Tech scored once again in the bottom of the third, this time on a wild pitch following a strikeout. Catcher Johnathon Wilcox plated the run after leading off the inning with a triple.
Illinois Tech's biggest inning was the bottom of the fourth, as the Scarlet Hawks scored on a bases-loaded Wilcox walk and then on a steal of home by shortstop Tyler Tucker. The Scarlet Hawks left the bases loaded after DJ Rybski had a bunt single with two outs.
After laboring through the first inning and escaping a bases loaded jam, starting pitcher James Tarala was on cruise control from the second through the fifth inning, allowing just three runners to reach base. In the top of the sixth, the Eagles scored two unearned runs off the Scarlet Hawks starter to pull to within two at 4-2.
In the top of the seventh, the Eagles scored once more courtesy of a two-hit inning. Illinois Tech led 4-3 heading into the seventh inning stretch.
After both teams went 1-2-3 in the eighth inning, Robert Morris opened the game up in the ninth. The Eagles scores seven runs on six hits and ended up with a 10-4 lead heading into the bottom half of the ninth. Illinois Tech couldn't get anything going on offense as the Eagles won the game.
Scarlet Hawk Standouts
Tarala was strong, throwing six innings, allowing no earned runs (two runs total), five hits, two walks, and six strikeouts.
Matt Witkowski threw a 1-2-3 eighth inning in relief, striking out one.
Wilcox tripled and had Illinois Tech's lone RBI. He was also the only Scarlet Hawk with two hits.
Stats to Know
Scarlet Hawk pitching walked just two on the day.
Illinois Tech stole two bases (Wilcox, Tucker), while the Eagles stole one.