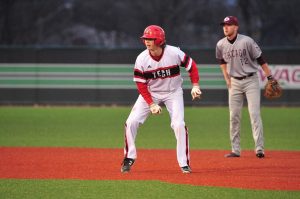 For the second time this season, the Illinois Tech Baseball team (9-14, 1-7) hosted WIAC opponent UW-Whitewater (17-3, 9-1) for a two-game weekday set at Chicago State University. Coming into the contest ranked third in the nation, the Warhawks defeated Illinois Tech 7-0 and 7-1.
Runs-Hits-Errors: Game One
UWW: seven runs, 10 hits, zero errors
Illinois Tech: zero runs, five hits, three errors
How it Happened: Game One
The Scarlet Hawks and Warhawks played even baseball through the first two innings until a walk from Illinois Tech starter James Tarala broke the 0-0 tie in the top of the third.
Both Tarala and Warhawk starter Austin Jones dominated the middle innings, combining to allow just three hits in the fourth, fifth, and sixth frames.
In the seventh, the Warhawks moved ahead 4-0.
The hitting for the visitors continued in the top of the eighth, putting pressure on the Illinois Tech defense to score three more times.
Runs-Hits-Errors: Game Two
UWW: seven runs, 10 hits, one error
Illinois Tech: one run, nine hits, six errors
How it Happened: Game Two
Once again, the starting pitching was strong for both teams. The Warhawks' Michael Kaska and the Hawks' John Zalewski kept things scoreless through the first three frames.
Two walks, two singles, and a stolen base led to a three-spot for the Warhawks in the fourth before Illinois Tech responded with a run of its own. After a Zachary Dickey double and DJ Rybski single, Illinois Tech scored via a passed ball to bring the score to 3-1.
Whitewater pounded out five hits over the next two innings to scoot four more runs, bringing the score to 7-1.
Ian Duke entered the ballgame for Illinois Tech in the sixth and pitched phenomenally, shutting down one of the best offenses in the nation. He gave up one unearned run over the four frames while walking no one.
Scarlet Hawk Standouts
Duke was strong in relief in game two with four innings pitched, four hits, and two strikeouts.
Centerfielder Jacob Sorenson was three-for-four with a walk in the second game.
Tarala was great in game one despite taking the loss, allowing seven hits over 6.2 innings while allowing four earned runs (three in the last inning).
Up Next
Illinois Tech will face UW-Stout for two doubleheaders on Saturday, April 21 and Sunday, April 22. Stay tuned to www.illinoistechathletics.com for any schedule changes.