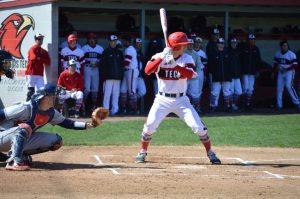 Illinois Tech Baseball played a mid-week game at Calvin College in Michigan on April 11. The Scarlet Hawks fell 10-2.
How it Happened
Calvin had a huge first inning that set the tone for the rest of the contest. The Knights plated seven runs in the frame and followed that up with one more in the second inning.
Illinois Tech was kept under wraps until the sixth. Jonathon Wilcox singled in Ted Howell, who singled to reach base earlier in the inning.
In the seventh, Tyler Tucker singled with two outs. Zachary Dickey drove him in on the next at-bat to make the score 10-2.
Scarlet Hawk Standouts
Tucker was the only Scarlet Hawks with a multi-hit day (two-for-three).
Dickey (one-for-four, triple) and Wilcox (one-for-three) had RBIs. Wilcox also stole a base.
James Tarala (one-for-one, two walks) reached base in every plate appearance.
Joseph Hindy pitched two scoreless innings.
Up Next
Illinois Tech will travel to Marian University in Wisconsin for a doubleheader on Friday, April 14 at 3 p.m. Live video and stats will be available.