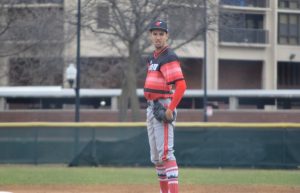 The Illinois Tech Baseball team opposed Augsburg for the second time in three days on March 13. After defeating the Auggies on March 11, Augsburg was able to down Illinois Tech.
Runs-Hits-Errors
Augsburg: six runs, 12 hits, 0 errors 
Illinois Tech: two runs, six hits, two errors
How it Happened
Augsburg jumped ahead in the top of the first inning, as a two-out, three run homer put the Auggies up 3-0.
After a leadoff triple came around to score for Augsburg in the top of the third, Illinois Tech plated a run in the bottom half. The Scarlet Hawks walked four times, with a run coming in on Zachary Dickey's two-out base-on-balls to bring the score to 4-1.
In the sixth inning, the Scarlet Hawks would tack on another tally. After Christian Lopez led the frame off with a double, James Tarala drove him in on a sacrifice fly after Carsten Wahl successfully advanced Lopez to third on a groundball to second base.
Illinois Tech starter Kyle Bumpass really found a groove after Augsburg's third inning run. The Crete, Illinois, native allowed just four hits and one walk from the fourth inning through the eighth inning, keeping the Auggies at bay and the Scarlet Hawks within striking distance.
Augsburg was able to add two more runs in the bottom of the ninth inning against the Hawks bullpen. Illinois Tech was unable to get anything going in the bottom half of the inning.
Scarlet Hawk Standouts
Bumpass took his second loss of the season, but it was due to tough luck. The junior tossed eight innings, allowing four runs and striking out five.
Lopez was the only Scarlet Hawk with multiple hits (two-for-four with a double).
Dickey and Tarala added two RBI on the afternoon.
Stats to Know
The Scarlet Hawks were patient at the plate, drawing six walks.
Augsburg pitching struck out 13 batters compared to five for the Scarlet Hawks.
The Auggies stole two bases.
Up Next
The Scarlet Hawks are off until Thursday, March 16. Illinois Tech will oppose Valley City State at 3 p.m. CT at Kino Sports Complex Field #7.