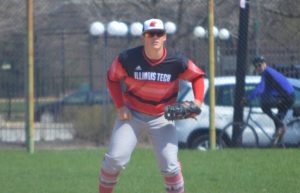 The Illinois Tech Baseball team hosted an afternoon contest on April 19 against Kalamazoo College at Ed Glancy Field. After falling behind early, the Scarlet Hawks never fully recovered, falling to the Hornets 13-3 in seven innings.
How it Happened
The Scarlet Hawks scuffled out of the gate, as KZoo managed to plate six runs over the first two innings.
After the Hornets tacked on two more in the top of the fourth, the Scarlet Hawks got on the board in the bottom of the fifth. Ted Howell collected one of his three hits, driving in Tyler Tucker.
In the bottom of the sixth, Tucker singled two runs to cut the Hornets lead to 8-3.
Kalamazoo had its biggest inning of the day in the seventh, using a grand slam and solo home run in back-to-back fashion to extend the advantage to the eventual 13-3 final.
Scarlet Hawk Standouts
Howell reached base safely in all four plate appearances, going three-for-three with a walk and an RBI.
Tucker drove in two runs and scored once.
Orlando Cardenas-Juan collected two hits and scored a run.
Jacob Geiger entered in the fifth with one out and the bases loaded, and retired the two hitters he faced.
Christoper Dornan doubled in his only at-bat of the afternoon.
Stats to Know
While the hits were even at 10, errors played a key factor. Illinois Tech committed five errors compared to just two for Kalamazoo.
Illinois Tech put six Hornets on base via the hit by pitch. The Scarlet Hawks also walked six batters.
Up Next
A Saturday, April 22 doubleheader at Edgewood College is up next for Illinois Tech Baseball. Games are set to start at 5 p.m. Edgewood will provide live video and stats.