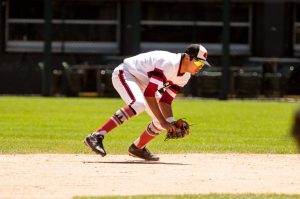 The Illinois Tech Baseball team (12-16) took on regionally-ranked and future conference foe Aurora University (20-10) on April 24 at Illinois Tech's annual game at Guaranteed Rate Field, home of the Chicago White Sox. The Scarlet Hawks played an extremely efficient game at the big league park, holding off the Spartans 5-3 behind timely hitting and strong pitching from six different arms.
How it Happened
James Tarala, Ryan Cantlin, John Zalewski, Ian Duke, Neal Shah, and Tyler Tucker threw an inning each over the first six frames, holding a dynamic Spartans offense to just two runs on four hits, one walk, and two hit by pitches.
Illinois Tech's scoring started in the bottom of the second with the team trailing 1-0. With two outs and first baseman Ted Howell on second, shortstop had his first of four hits with an RBI single up the middle to tie up the contest.
In the bottom of the third, Illinois Tech's hit total continued to climb. Tallying for singles in the inning, the Scarlet Hawks jumped ahead 3-1. Both Howell and right fielder Peter Upham had RBI base hits in the inning.
After AU scored one in the fifth, Orlando Cardenas-Juan singled down the left field line to score two runs and increase the advantage to three at 5-2.
With Roberto Carselle on the mound to work the last three innings, left fielder Nick Worden made the play of the game in the top of the eighth. With two outs and two men on, AU's Cale Sparks hit a deep fly ball in the left field corner, which Worden tracked down flawlessly to end the threat.
In the top of the ninth the Spartans had three men in a row reach base with two outs, but flew out to deep center field to end the contest. They played a run in the frame to lead to the 5-3 final score.
Scarlet Hawk Standouts
Cardenas-Juan was 4-for-4 with four singles and three RBI.
Center fielder Jacob Sorenson went 2-for-3 with two runs, two walks, and three steals.
Howell (2-for-3, two runs, RBI, walk) and Worden (2-for-4) each had two hits.
Zalewski earned the win with a scoreless inning of relief.
Carselle earned his first collegiate save.
Up Next
Illinois Tech plays at another regionally-ranked team this weekend: UW-Stevens Point. The WIAC opponent will host noon doubleheaders on Saturday, April 28 at Sunday, April 29.