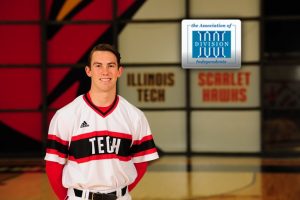 Illinois Tech baseball has earned its first Player of the Week honor. Catcher/designated hitter Zachary Dickey has been named Player of the Week by the Association of Division III Independents for action from March 6-12.
The freshman and El Paso, Texas, native had a strong start to the team's trip in Arizona. During the team's first game on March 12 against Concordia-Wisconsin, Dickey reached base in every plate appearance. He was two-for-two with a walk and the team's first home run of the season. Dickey was also responsible for three RBI in the contest.
Baseball is back in action in Tucson, Arizona, on Thursday, March 16 at 3 p.m. CT against Valley City State.