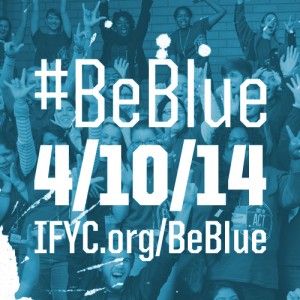 On April 10, 2014, people across the country will wear blue on Better Together Day to raise awareness about the importance of interfaith cooperation. People of different religious and non-religious backgrounds will mobilize their campuses, communities, and companies to show the world we are better together.
The Office of Spiritual Life and Service Learning and IIT's Better Together student organization invite you to join them in celebrating Better Together Day.
Stop by the McCormick Tribune Campus Center Bridge on the IIT Main Campus between noon- 2pm on Tuesday, Wednesday or Thursday and sign the #Be Blue pledge. You can also enter to win free stuff including the following:
~Two books autographed by Eboo Patel, founder of the Interfaith Youth Core.
~Mirembe Kawomera dark roast coffee from the Peace Kawomera Cooperative, an interfaith coffee co-op in Uganda
~Three bars of Divine Chocolate (one each of White Chocolate with Strawberries, Milk Chocolate with Toffee and Sea Salt, and Dark Chocolate with Raspberries)
Better Together swag will also be included so participants can show the world their support for interfaith cooperation.
Here's how to enter:
1. Each day, The Office or Spiritual Life and Service Learning will be on the MTCC bridge, inviting the IIT community to take the #BeBlue Better Together Day pledge. Participants can take a picture and tell why they believe in the campaign.
2. Anytime between now and 11:59pm on Thursday, April 10, display "selfie" photo skills to work in the name of interfaith cooperation. Take a photo wearing blue and show support for "going blue" for the Better Together Day. Share photos on Facebook or Twitter and include the hashtag #IITgoesBlue so entries can be tracked.
Some rules:
~Photos must be of, or include, yourself.
~Must be wearing blue.
~Photos must be interfaith-friendly and appropriate for public viewing. In other words, they cannot include religiously offensive content, nudity, intoxication, illegal activity or any activity prohibited by IIT's Code of Conduct.
~Photos must be uploaded to either Facebook or Twitter, using #IITgoesBlue no later than 11:59pm on Thursday, April 10, 2014.
Email Lynne Meyer, Director of Spiritual Life and Service Learning, or call 312.567.3160.
Like IIT is Better Together Facebook page and the IIT Office of Spiritual Life and Service Learning Facebook page for more updates on all things interfaith.
This event reflects the values expressed in IIT's Diversity Statement and is intended to promote diversity at IIT.