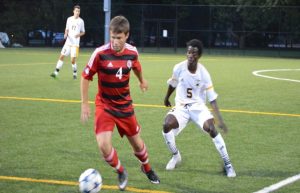 The Illinois Tech Scarlet Hawks hosted Beloit College for a Homecoming game on September 16. Despite a large possession advantage, the Scarlet Hawks fell to the Buccaneers 2-0.
How it Happened
In the eighth minute, Jose Gutierrez fired a beautiful free kick from about 35 yards out, finding the back of the net in the top left corner to put Beloit up 1-0.
Gutierrez's shot was just one of four attempted by the Bucs in the first half, as Illinois Tech outshot the opponent 13-4. However, the score was still 1-0 Beloit heading to halftime.
The second half was more of the same, as Illinois Tech held a 9-3 shot advantage in the 45 minutes.
Beloit capitalized on another one of its limited chances, scoring in the 88th minute to ice the match.
Scarlet Hawk Standouts
Stats to Know
The final shot count was 22-7 in favor of Illinois Tech, 10-5 on net.
Jere Bauer made 10 saves for Beloit.
Illinois Tech was active on corners, outdoing Beloit 13-1 in the category.
Up Next
Illinois Tech will host St. Mary's (Minnesota) on Wednesday, September 20 at 6 p.m. Live audio, video, and stats will be available. The live audio will be powered by Illinois Media School.