Do you struggle to market your group's events? Do you wish you could advertise in a more sustainable way? Join Office of Campus Life (OCL) for a presentation on how to how get your event noticed while going green. Stop printing posters and think big. This event is free and open to all students, faculty and staff. This brown bag lunch series will be held on Wednesday, March 2 at 1 p.m. in The McCormick Tribune Campus Center (MTCC), Room 516.
This presentation is part of a series of educational and interactive seminars as part of the Toolkit Series.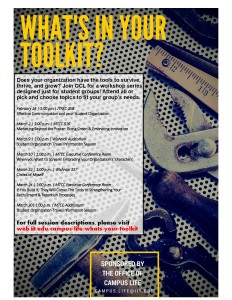 Check out the entire list here.