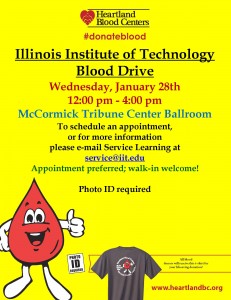 Since 1970, January has been declared National Volunteer Blood Donor Month, and with good reason. Above all other times of the year, it's the month that presents the most challenges in recruiting people to give blood. This January is no exception, with Heartland Blood Centers in an urgent need for more donors. Changing weather, busy schedules, increased cold and flu symptoms, and even the winter blues can keep the most dedicated blood donors from making or keeping an appointment to give. Yet, winter weather can lead to more traumatic injuries on icy roads and may increase the need for blood.
Heartland Blood Centers needs about 600 blood donors every day to meet the needs of patients at 59 Chicago area and Northwest Indiana hospitals. However, there has been a 40 percent percent dip in blood donations so far this January. The significant dip in donations caused a decrease in the local blood inventory of key blood types, including O-negative, A-negative, and B-negative.
How can you help? Come out and donate blood at the Office of Spiritual Life and Service Learning's first drive of 2015!
You can schedule an appointment online by clicking here or by sending an email to Service Learning at service@iit.edu with your preferred time.  Appointments begin at noon and go every 20 minutes (12:20, 12:40, etc.)
The blood drive will be held on Wednesday, January 28 from noon–4 p.m. in The McCormick Tribune Campus Center Ballroom. Please be sure to eat a good meal and drink plenty of water prior to your donation. A photo ID is required. As a thank you, all donors will receive a free t-shirt!
Questions? Contact Lynne Meyer, director of spiritual life and service learning, at lmeyer2@iit.edu or 312.567.3160.