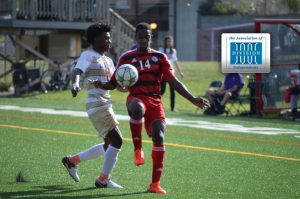 The Association of Division III Independents has announced its Student-Athletes of the Month for October. Brandon Bortei-Doku received the honor for men's soccer.
Bortei-Doku concluded the month with six goals, two assists and 14 points for the Scarlet Hawks. The junior finished with three goals, including the game-winning goal, in Illinois Tech's win over fellow AD3I member Maranatha Baptist on October 7. Bortei-Doku later recorded two goals in the Scarlet Hawks' win over Andrews on October 13. The one-time Player of the Week also produced a goal and an assist in the win over Moody Bible on October 18.
Men's soccer begins USCAA Tournament play on Thursday, November 9 with a 1 p.m. matchup with the tournament's second overall seed, the University of Maine and Fort Kent.