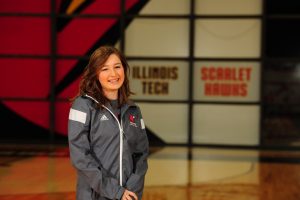 The Illinois Tech Women's Track and Field team put together an impressive performance on February 25 at the Anderson University Fred Wilt Invite. The Scarlet Hawks earned an individual win and continued its strong season in jumps.
Meet Highlights
It was a great day for Julia Briden, as the freshman won the 1000 Meter Run at 3:31.33. The time was a nine-second improvement from her seed time. 
Mminika Effiong placed sixth in the long jump at 4.78m. She also finished 10th in the 60 Meter Dash with a time of 8.59s, a season-best.
In the triple jump, Emmalee Ciriacks placed eighth with a 9.76m mark.
Up Next
Illinois Tech is back in action on Saturday, March 4 at the UW-Stevens Point Final Qualifier.