Bring your E-Waste on November 15, 2022, for America Recycles Day!
This event is a collaboration between the Office of Campus Energy and Sustainability and the Work Life and Engagement Committee to launch the first day of America Recycles Day, November 15, 2022, beginning at 11 am. America Recycles, also known as National Recycle Day, is a nationally-recognized day that celebrates and promotes recycling in the U.S. The Office of Campus Energy and Sustainability will collect e-waste from November 15 – 22. There are four available drop-off locations available on campus. Please drop off all your e-waste listed below at the locations provided.
ACCEPTABLE E-WASTE ITEMS
A/C Adapters
Analyzers / Test Equipment
Audio / Visual Equipment
Batteries
Calculators
Cameras
Cell Phones / Office Phones
Computers / Laptops
Computer Components
CRT Monitors, LCD Monitors & Televisions
DVD & VHS Players
Keyboards / Mouse
Microwaves
Printers / Scanners/ Fax Machines
Security Equipment
Smartboards
Toner / Ink
Typewriters
UPS / Battery Backups
Wires / Cables / Cords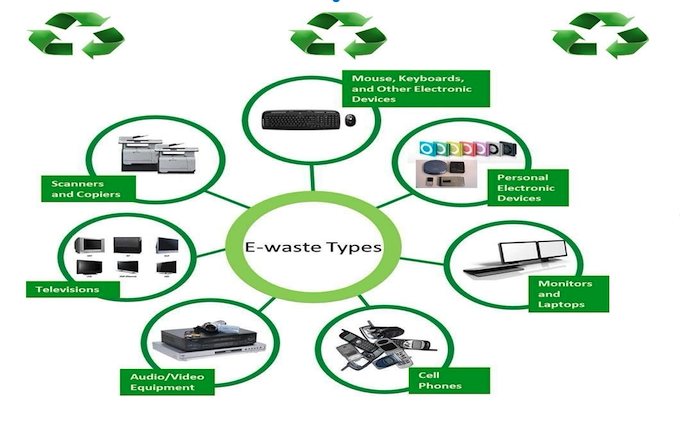 There are four drop-off locations around campus:
– IT Galvin Tower Lobby (Dock area)
– Galvin Library (Dock area)
– Retaliatta Engineering Building (North Entrance)
– MTCC (North side of the building, C Dock area)
Please note, If you have any large electronic devices you would like to include in the e-waste removal, please submit a work order request by clicking here, and the device will be scheduled to be picked up later.
We will have a special pop-up guest to show our Illinois Tech pride!
Volunteers are welcome. If interested, don't hesitate to get in touch with Ramon at rramire5@iit.edu or Dominitrice "Dee" at dgonza11@iit.edu for information.
Thank you.
Office of Campus Energy and Sustainability and
Work Life and Engagement Committee