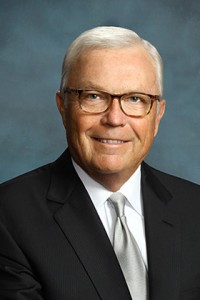 Meet Alan "Bud" Wendorf (ME '71), the 2016 Alumni Medal recipient.
After joining Sargent & Lundy in 1972, Wendorf oversaw engineering consulting projects at power plants all over the globe. He ultimately rose to chairman, president, and CEO, building Sargent & Lundy into a world leader in professional services for the electric power industry. He served as a director of the Nuclear Energy Institute and the Construction Industry Round Table, and was made a fellow of the American Society of Mechanical Engineers, one of the highest honors in his discipline. Wendorf retired in 2013 after a 41-year career with Sargent & Lundy.
The 2016 Alumni Awards luncheon and ceremony will recognize 13 alumni and one civic leader. Help celebrate these extraordinary winners on Friday, April 29 at 11 a.m. in Hermann Hall. Registration is required, and tickets are $50 each.