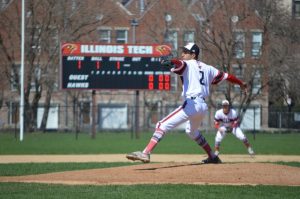 A Kyle Bumpass seven-inning no-hitter in game one of a doubleheader stole the show for the Illinois Tech baseball team on April 7. Illinois Tech took a 3-0 victory in game one behind the junior's masterful performance and used the momentum to ride to another 3-0 win in game two.
How it Happened – Game One
Both teams struggled to get much offense going early. Each team had one baserunner through the first two frames, with MBU reaching on an error in the first and the Scarlet Hawks reaching on a Ted Howell single in the second.
After MBU reached base on an error in the third, the Scarlet Hawks plated the first run of the game in the bottom of the inning. Tyler Tucker knocked in Orlando Cardenas-Juan on an RBI single.
Bumpass continued to cruise, striking out four total batters over the fifth and sixth innings. The offense game him some more room in the bottom of the fifth, as another RBI single from Tucker made it 2-0. Cardenas-Juan later scored on a wild pitch to extend the lead to three.
Three groundouts from Bumpass in the seventh inning completed his no hitter.
Bumpass' Afternoon
No hits over seven innings of work
Nine strikeouts
One walk, two runners reached on error
24 batters faced (three above the minimum)
69.6% (55 of 79) of his pitches went for strikes.
Other Game One Notes
Tucker was two-for-three with two RBI singles.
The game lasted just 1:18.
How it Happened – Game Two
The Scarlet Hawks jumped out ahead early, as Tucker walked, stole second, and advanced to third on a wild pitch before Howell drove him in on a single.
In the second inning, the Scarlet Hawks walked four times. Zachary Dickey drove in a run with a two-out free pass to put Illinois Tech up 2-0.
Starter Ryan Cantlin had an impressive evening of his own, which started off with five of six possible outs as strikeouts over the first two innings.
Illinois Tech's offense was quiet the rest of the way, mustering just one more hit on a Jonathon Wilcox double in the eighth.
However, Cantlin also kept the Sabercat bats quiet, pitching a nine-inning shutout and having minimal trouble along the way.
Cantlin's Night
Earned his first collegiate victory
Pitched nine shutout innings
Recorded 11 strikeouts with no walks
Only six hits allowed
Other Game Two Notes
The game took place on the campus of Chicago State University.
The Scarlet Hawks managed just two hits, but walked eight times.