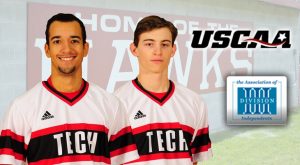 The Illinois Tech Baseball team earned several weekly honors for its four-game, two-day sweep over Maranatha Baptist April 7–8. Pitcher/third baseman Kyle Bumpass has been named both United States Collegiate Athletic Association Pitcher of the Week and Association of Division III Independents Player of the Week. Catcher/designated hitter Jonathon Wilcox took home USCAA Position Player of the Week honors.
Bumpass threw a no-hitter in his weekend start, throwing a complete game, seven-inning gem in the first April 7 game against the Sabercats. In Illinois Tech's 3-0 victory, the junior struck out nine and walked one, facing just three hitters over the minimum and throwing 69.6% of his pitches for strikes. He also hit .429 with three runs, an RBI, and a stolen base over the four games while making several outstanding plays at third base, factoring into his AD3I Player of the Week award as well.
Wilcox had an impressive four games at the plate, going five-for-nine (.556) with three doubles, five RBIs, three runs scored, and a stolen base. Wilcox had an OBP of .667 and slugging percentage of .889, combining for an OPS of 1.556.