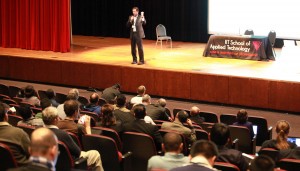 Papers are being accepted through June 1, 2014 for IPTComm scheduled to be co-located with the IIT Real-Time Communications Conference and Expo September 30 – October 2, 2014. The combined conference will be held at Hermann Hall on IIT's Main Campus. IIT's RTC Conference is in its 10th year and IPTComm is in its seventh year. View for IIT RTC Conference details. More details available here.
This international conference is devoted to academic and industrial research in IP-enabled communications and services. Promoting and addressing the ever changing technological landscape, the conference covers timely topics related to Mobility, Software Defined Networking, Big Data, Information Centric Networks, new web-enabled technologies like WebRTC, Cloud-based real-time media processing, Internet of Things (IoT), and the integration of real-time communications with traditional M2M systems. The goal of IPTComm is to bring together researchers working in these emerging fields in order to discuss challenges and share results, and ultimately provide a solid foundation to support the progress of new services and communication paradigms.
The IPTComm conference scope includes voice and video over IP, Machine-to-Machine communications, enabling protocols like SIP and WebRTC, Mobility, scaling, security, cloud, applications, emerging standards, system analysis, reliability, and architectures. We invite paper submissions addressing theoretical and experimental achievements, innovative systems, prototyping efforts, case studies and technological advancements. Please visit the IPTComm at http://iptcomm.org/cfp/index.html for more detail about topics of interest.
The IIT RTC Conference is a globally recognized collaborative event, where industry and academia connect. Leveraging its unique academic setting, this annual conference brings together technical professionals and business executives from the data and telecommunications industry, standards bodies, policy and regulatory institutions, and academic educators and researchers to promote an open exchange of ideas to lead future development in the rapidly changing field of real-time communications.
Author Information
Paper submissions must describe original research, not published nor currently under review for another conference or journal. The program committee will referee all papers, and, as in previous years, accepted papers will be published in the ACM Digital Library pending approval of ACM in-cooperation status. At least one author of each paper must be registered and present the paper at the conference.
Submission Guidelines
Papers submission is handled by EDAS.
Paper submissions should be 6-8 pages in length with 10 point font using the two-column ACM conference format (details at http://www.acm.org/sigs/publications/proceedings-templates)
Important Dates
Paper submission deadline: June 1, 2014
Notification of acceptance: July 15, 2014
Final camera-ready submission: September 1, 2014
Conference dates: September 30 – October 2, 2014
Stay tuned to the website and mailing lists for further updates:
Twitter: twitter.com/IIT_RTC_Conf
LinkedIn: http://tinyurl.com/IIT-RTC-Conf-LI
Facebook: