Are you looking for a way to get back at North Hall after Penny Wars? Would you like free catered breakfast during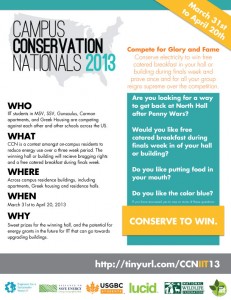 finals week in of your hall or building? Do you like putting food in your mouth? Do you like the color blue?
If you answered yes to one or more of these questions, plan to participate in the Campus Conservation Nationals. Conserve electricity to win a free catered breakfast in your hall or building during finals week, and prove once and for all that your group reigns supreme over the competition!
The competition runs from March 31 – April 20. Brought to you by Engineers for a Sustainable World, the Office of Campus Energy and Sustainability and IPRO 338.