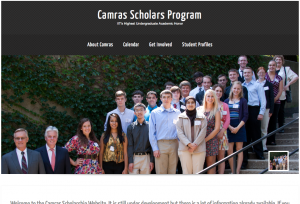 The Camras Scholarship has launched a new website with tons of information on the program, event info, profiles of Camras scholars, and initiatives developed by the Camras students. Some of these include urjiit, the undergraduate research journal, and IMiEE, an engineering outreach workshop that has expanded university-wide.
The new site, developed by Camras scholar and ChBE / ECE student David Ilavsky, will serve as a hub for current, past, and future Camras students to connect, plan events, coordinate on projects, and promote Camras initatives.
Visit the new Camras website here.
The Camras Scholarship, named for magnetic recording technology pioneer and IIT professor Marvin Camras (EE '40, MS '42), is one of IIT's highest undergraduate academic honors. The Camras Scholars Program challenges the top 1% of IIT's undergraduate applicants to apply and interview with a faculty member for a place as a Camras Scholar.
The Camras site is still under development but a lot of information is already available. If you have any questions, contact camras.scholars@gmail.com.