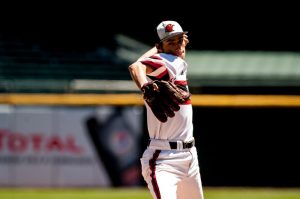 The Illinois Tech Baseball team (10-15, 2-8 WIAC) opposed the UW-Stout Blue Devils (4-15, 1-7 WIAC) on April 21. After dropping game one 12-1, the Scarlet Hawks defeated the Devils 7-2 in game two after Ryan Cantlin tossed all nine innings.
Game One: Runs-Hits-Errors
Illinois Tech: one run, five hits, four errors
Stout: 12 runs, nine hits, zero errors
Game One: How it Happened
Illinois Tech starter John Zalewski allowed baserunners via both the hit (six) and walk (two) over the first two innings, resulting in six runs (five earned) for the Blue Devils.
After shortstop Orlando Cardenas-Juan drove in a run on a single, Stout struck again with five more runs to build an 11-1 advantage.
Entering the game with two outs in the bottom of the third inning, Neal Shah was able to slow the Blue Devil offense down. He allowed just one unearned run over two and one-thirds frames while striking out five.
Jake Menard entered in the sixth and picked up where Shah left off, allowing just one hit in an otherwise perfect inning for the Oswego, Illinois, native.
Illinois Tech's offense could not muster another run following the Cardenas-Juan third inning RBI, going down 1-2-3 in the seventh to end the contest.
Game Two: Runs-Hits-Errors
Illinois Tech: seven runs, 12 hits, one error
Stout: two runs, nine hits, two errors
Game Two: How it Happened
After scoring on an error in the second inning, Illinois Tech opened up a big lead for Cantlin in the third. After a leadoff bunt single by left fielder Nick Worden, RBI singles from center fielder Jacob Sorenson and right fielder Peter Upham, as well as an RBI groundout from catcher Zachary Dickey, helped the Scarlet Hawks increase the lead to 4-0.
Worden and second baseman Nick Bledsoe doubled in the fourth. Worden drove in third baseman Tyler Tucker to further increase the lead.
Cantlin allowed just four baserunners through the first five innings to keep the Blue Devils at bay.
Cardenas-Juan added an insurance run on an RBI single in the sixth before a Dickey double tacked on another in the ninth. The Scarlet Hawks led 7-0 heading into the last frame.
Continuing to display pinpoint control (walking just one batter in the eighth inning), Cantlin easily reached the ninth inning. A two-RBI single by Stout center fielder Jordan Wilson erased the shutout, but Cantlin managed to retire the next batter on a weak pop-out in front of the mound to toss a complete game.
Scarlet Hawk Standouts
Nine innings with zero earned runs, one walk, and two strikeouts made up Cantlin's final line in his fourth win of the season. He also allowed nine hits.
Bledsoe had a strong game two with a 3-for-4 performance (two stolen bases). Dickey was 2-for-5 with two RBI and a steal in the contest as well.
Worden went 2-for-4 with a run and an RBI in the second game.
Cardenas-Juan was 2-for-3 in the first game and drove in a run in both ends of the twinbill.