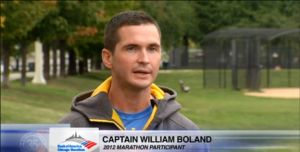 AFROTC Assistant Professor of Air Force Science Captain William Boland is among the military service members who will run in the Chicago Marathon this Sunday.  Captain Boland is running in memory of nine fallen teammates in Afghanistan.  In 2011 he ran, and won, a Chicago Marathon satellite race in Kabul.
NBC 5 Chicago produced a special segment on how the Bank of America Chicago Marathon is saluting service members and veterans across the country this year, speaking with Captain Boland and others.
View more videos at: http://nbcchicago.com.