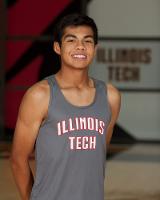 Orlando Cardenas has added yet another honor to what's been a decorated freshman season. The California native has earned the Association of Division III Independents' Student Athlete of the Month Award for Men's and Women's Cross Country for the month of September.
The freshman led the way for Illinois Tech in all three of the team's September meets. At the Elmhurst College Earlybird Invitational, he started the season strong with a 30th place finish in the 6k (20:08.7), helping the Scarlet Hawks place 10th in the meet. Next, he placed 35th and earned a 27:09.8 8k time at the Aurora University Spartan Classic. To close out the month, Cardenas placed 20th in a tough and competitive Augustana College Brissman Lundeeen Invitational field with a 27:30.7 8k time.
The Scarlet Hawks and Cardenas are back in action on Saturday, October 15 at the UW-Oshkosh AAE Invitational. Race time is set for 2:15 p.m.