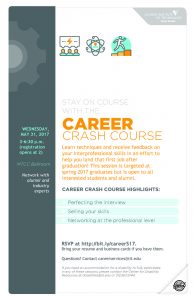 Career Services will host a Career Crash Course on Wednesday, May 31 from 3–6:30 p.m. (registration begins at 2 p.m.) in The McCormick Tribune Campus Center (MTCC) Ballroom. This session is targeted for spring 2016 graduates, but is open to all interested students and alumni. The event will include interactive workshops and advice geared toward your career development to help you land that first job after graduation. Join us to practice and receive feedback on strategies for a successful job search, including interviewing, communicating your skills, networking, using social media, and more.
RSVP here by Friday, May 19.
Also, remember that Career Services staff and resources can continue to help you with your career aspirations after you have graduated. Stop in during walk-in hours (Tuesday through Thursday, 12:30–4:30 p.m.), make an appointment with a coach in Jobs4Hawks, or view our resources online.