Career Services Walk-In Hours
Where: Hermann Hall Room 113
We are open for walk-ins Tuesday through Thursday from 12:30-4:30 p.m. Staff will see students on a first-come, first-served basis. To make an appointment to see a career coach outside of walk-in hours, login to Job4Hawks and schedule your appointment there.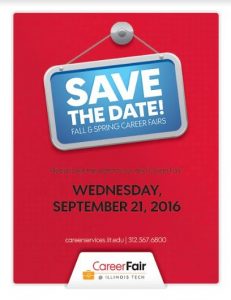 Career Fair Save the Date
Where: Hermann Hall
The Career Fair at Illinois Tech is happening on Wednesday, September 21. Make sure you save the date.
General Tips: Make sure your resume is ready by scheduling an appointment with a career coach or stop by the Career Services office during walk-in hours. See the list of companies attending, along with other ways to prepare online.
Set Yourself Apart. Ask your Peer Career Coach how you can become a VIP career fair member to get the most out of the Career Fair. Email us at pcc@iit.edu.
Career Services at Illinois Tech
Website | Facebook | Twitter