Career Services is offering the following workshops the week of Monday, September 7:
Career Services Weekly Walk-in Hours:
Where: Hermann Hall, Room 113
Description: Career Services are open for walk-ins Wednesday-Friday from 11:30 a.m.-4 p.m. Staff will see students on a first come, first served basis. To make an appointment to see a career coach outside of walk-in hours, email careerservices@iit.edu.
Tuesday, September 8, 2015
12:45-1:40 p.m.
Co-op & Internship (CPT) Presentation
Where: Perlstein Hall, Room 108
Description: Developed and led by Career Services and International Center staff, this presentation provides information on how to apply to co-ops and internships and how to make sure students are in compliance with federal law and immigration regulations. Attending one of these sessions is mandatory for all students participating in a CPT co-op or internship through Illinois Tech.
Tuesday, September 8, 2015
1-3 p.m.
Oracle presenting "Day in the Life of an African American in Corporate America" and Mock Interviews
Where: Tech Park
Description: Join representatives from Oracle for a discussion panel about a "Day in the Life of an African American in Corporate America" and the value of mock interviews. Lunch will be provided for the first 30 participants who RSVP. Contact Lisa Montgomery at scdi@iit.edu for more information or to RSVP.
This event is a part of a series of ​"Executive Honors Diversity Network Illumination Sessions"
​Illumination Sessions are discussion forums featuring professionals from various industries and corporations that invite students, alumni, and members of the community to engage in discourse on global workforce practices, trends and culture. Thought leaders are invited to share valuable insight on effective strategies for personal and professional development, the culture of the business world and how to succeed. Major corporations are registered to partner with minority student organizations and provide pre-career fair events, Illumination Sessions, participate in the November National Career Development Month, and collaborate with Illinois Tech throughout the year. Read more about Illumination Sessions on our website.​
Wednesday, September 9, 2015
5-5:45 p.m.
The 30-Second Elevator Pitch
Where: The McCormick Tribune Campus Center (MTCC) Executive Conference Room
Description: Students and alumni are invited to workshops that will help them get the most out of career fairs and networking opportunities. This workshop is designed to help you know what to say to employers to sell your skills, settle your nerves, and put you in the mindset of an employer. Attend this workshop and show employers that you have prepared to showcase yourself concisely and professionally.
Thursday, September 10, 2015
noon-1:30 p.m.
Peace Corps: on the Bridge
Where: MTCC Bridge
Description: Interested in volunteering with an organization that meets real needs of people around the world in life-altering and sustainable ways? Talk with members of the international services organization, the Peace Corps in the MTCC over the lunch hour on Tuesday, September 8.
Thursday, September 10, 2015
5-5:45 p.m.
Job Search Strategies
Where: MTCC, Room 516
Description: Searching for a job can seem like a daunting task. If you feel stuck in the process or haven't started your career search, this workshop will re-energize your efforts. Career Services staff will show you specific tools and strategies that will turn your job search into a tangible process that efficiently makes use of your time.
Thursday, September 10, 2015
6:3-8 p.m.
World Quant Info Session & On-Campus Interviews
Where: MTCC Auditorium
Description: You are invited to attend an information session by WorldQuant, where you will learn about the WorldQuant Challenge, and their Quantitative Finance Research Consultant Program. This event is open to all students and alumni. Successful candidates often come from various STEM and financial programs.
Join this info session to learn more about:
The quantitative finance and investment management industry

How to become a successful Quant in global financial markets

How to get free access to their web-based stock simulation system, that you can use to develop your quantitative financial models

How to attend free training classes/seminars about quantitative finance research and modeling

How you can get paid as a research consultant
For more information and to apply click here.
Friday, September 11, 2015
12:50-1:40 p.m.
Making the Most of Career Fairs
Where: Perlstein Hall, Room 109
Description: What do you hope to get out of attending the Fall 2015 Career Fair? This workshop will help you define your goals and show you how to successfully meet them. Some topics include: creating a strong resume, how to craft an elevator pitch, ways to research companies before meeting with their recruiters, what kinds of questions to ask, how to best use social media like LinkedIn, and how to network effectively. Attend this workshop to learn how to stand out to employers at the upcoming career fair or at other networking events.
Mark your calendars for these events: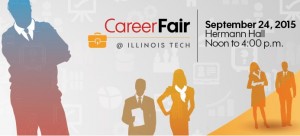 Fall Career Fair: Thursday, September 24, 2015, noon-4 p.m.
The 2-Hour Job Search: A presentation by author and associate director at Duke University's Fuqua School of Business, Steve Dalton on Monday, October 12, from 1:30-4 p.m.
Learn more about The 2-Hour Job Search book and method here.
Career Services at Illinois Tech
Website | Facebook | Twitter