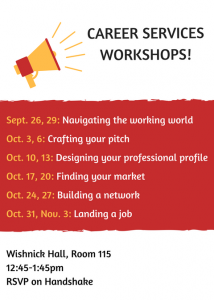 Career Services will host a series of workshops to introduce students to the working world and highlight specific skills needed to conduct a successful job search. Make sure to mark your calendars with all these Fall 2017 Career Services Workshops. All workshops will be held from 12:45–1:45 p.m. in Wishnick Hall, Room 115. Get more information and RSVP on Handshake.
Module 6: Landing the job
Tuesday, October 31, Friday, November 3
All your hard work has led to a full-fledged job interview. Join us to discuss strategies to prepare for the interview and to negotiate salary after an offer has been made. Also covered is an overview of typical U.S. benefits packages and how to weigh job offers beyond the base salary.