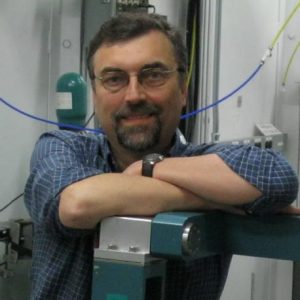 Carlo Segre, Duchossois Leadership Professor of Physics and interim chair of the Department of Chemistry, recently had his endowed chair renewed for another three-year term. The chair honors faculty who are exemplary in scholarship, education, and service.
As Duchossois Leadership Professor, Segre develops programming for, and selects and mentors students in, the Duchossois Leadership Scholars Program. The scholars (currently 10) are top undergraduate students from across the country who demonstrate exceptional leadership potential and academic success. They receive full tuition, room and board, summer educational experiences, and opportunities for internships, travel, retreats, and other activities to develop their abilities.
"One of the best parts of the program and my position is that through the Duchossois family's generosity I have the privilege to really get to know and personally mentor some of our most engaged and committed students," Segre said.
Segre, who has held previous titles of associate chair of the former BCPS department, associate dean of research for Armour College, and associate dean of the Graduate College, has been a faculty member at at Illinois Tech for 34 years. He is the director of the Center for Synchrotron Radiation Research and Instrumentation (CSRRI) and deputy director of both the Materials Research Collaborative Access Team (MRCAT) and Biophysics Collaborative Access Team (BioCAT) at Argonne National Laboratory. His research includes developing breakthrough nanoelectrofuel battery technology to extend the range of electric vehicles.
Earlier this month, Segre was elected to the executive committee of Sigma Xi, the international honor society for scientists and engineers, and he will continue to serve in his current position of the North Central Region Director of Sigma Xi. He was the former president of the Illinois Tech chapter of the society from 2005-2016. He is a fellow of the American Association for the Advancement of Science, a fellow of the International Centre for Diffraction Data, and an active member of the American Physical Society, American Chemical Society, Materials Research Society, and Electrochemical Society.
Segre received his B.S. in physics at the University of Illinois at Urbana-Champaign in 1976. He earned a Ph.D. in physics from the University of California, San Diego in 1981, and then spent two years as a post-doc at Rutgers University in New Jersey.
The Duchossois family has supported scholarship opportunities and significant endeavors in health care and other areas of need and promise, especially in the Chicago area. Craig Duchossois is chief executive of the Duchossois Group, Inc., in Elmhurst. He is an Illinois Tech University Regent and Life Trustee. He and his wife Janet are members of the Philip Danforth Armour Society at Illinois Tech. They have been strong supporters of the university since 1994 through scholarships and other initiatives.