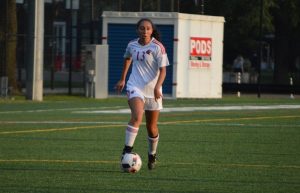 The Illinois Tech Women's Soccer team played host to Carroll University on October 11 at Stuart Field. Carroll, one of the region's best teams at 8-3-1 on the year, defeated Illinois Tech 3-1.
How it Happened
Carroll struck first, with Delaney Pruitt scoring in the fifth minute on a nice pass into the box.
The Scarlet Hawks made a couple of nice runs and had good momentum in the early portion of the first half, but shots were either saved by Carroll's Christina O'Block or just wide.
Pruitt scored her second goal in the 20th minute off of a Carly Oboikovitz header assist.
In the second half, Julia Taliana put the Scarlet Hawks on the board courtesy of a penalty kick in the 70th minute, her 13th goal of the season.
Rachel Van Sulys scored for Carroll just three minutes after the Taliana penalty kick, giving the Pioneers added insurance.
Scarlet Hawk Standouts
Taliana scored the team's lone goal on four shots (three on net).
Brianne Dane added three shots of her own.
Elizabeth Bremer made six saves in the defeat.
Stats to Know
Shots were in favor of Carroll at 26-19. Pruitt (10) and Van Sulys (nine) combined for 19 of the 26 shot attempts.
Illinois Tech committed 13 fouls compared to just five for the Pioneers
The Scarlet Hawks moved to 5-9-1 on the season. Carroll is now 9-3-1.
Up Next
The Scarlet Hawks host North Park University, a College Conference of Illinois and Wisconsin School, on Saturday, October 14 at 6 p.m. Live audio, video, and stats will be available. The live audio will be powered by Illinois Media School.