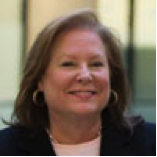 Catherine Vorwald, associate vice president for rental properties at Illinois Tech will also assume the duties as executive director of the University Technology Park, effective February 1, 2016.
As executive director, she will be responsible for Tech Park operations, as well as marketing, leasing and strategy development for all Illinois Tech rental properties. Since her arrival one year ago, she has made great contributions to the asset management of the IIT Tower and Tech Park.
Cathy first became involved with Illinois Tech from 2007 to 2011 as the business development director for the Technology Business Center, (location of the Idea Shop) working for Wexford Science and Technology. Previous to Illinois Tech, she led business development and tech transfer for the Vaccine and Gene Therapy Institute of Florida.
Catherine succeeds the founding executive director of the Tech Park, David Baker, who remains as the university's vice president for external affairs, with the added responsibility and leadership of Marketing and Communications for Illinois Tech.
Catherine can be reached at cvorwald@iit.edu for any matters related to the Tech Park or rental properties.