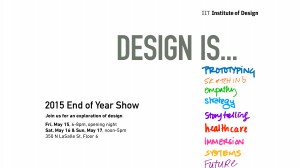 Operating room performance, early childhood education in Detroit, the future of digital/physical retail, and emergency room care for low-income children with asthma. How could design possibly play a role in tackling these kinds of challenges? How does a designer go about framing these kinds of problems and solutions? At this year's End of Year Show, held at the IIT Institute of Design, located at 350 N. LaSalle Street in Chicago, IIT Institute of Design students will illustrate aspects of the design process and display student work to answer those very questions. From concepts that are currently being tested in the world to others that are purely speculative, you'll get a picture of what the future could be.
RSVP here.
Friday, May 15, 6-10 p.m. – Opening Night
Saturday, May 16, noon-5 p.m.
Sunday, May 17, noon-5 p.m.