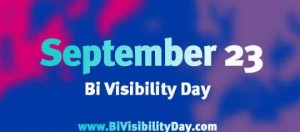 Bi Visibility Day, also known as International Celebrate Bisexuality Day, has been marked on September 23 each year since 1999 to highlight biphobia and to help people find the bisexual community. Join Gays, Lesbians, Allies and More (GLAM) and the Office of Campus Life on the McCormick Tribune Campus Center (MTCC) Bridge from noon-2 p.m. on Wednesday, September 23, 2015 to learn more about Bi Visibility Day and bisexuality awareness. You'll also be able to show your bi pride by taking a Bi Visibility Day photo. Not on Main Campus that day? Join us online by sharing your selfies on Twitter or Facebook with #BiVisibilIITy2015
Questions? Contact Lynne Meyer, director of spiritual life and diversity, at lmeyer2@iit.edu or 312.567.3160.
This event reflects the values expressed in IIT's Diversity Statement and is intended to promote diversity at Illinois Tech.