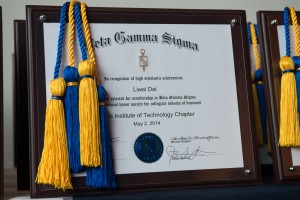 Join IIT Stuart School of Business on Friday, May 1, from 4-6 p.m. in McCloska Ballroom in The McCormick Tribune Campus Center (MTCC) for a program and reception recognizing John P. Calamos, Sr. (ECON '63, M.B.A. '70) as the 2015 Business Achievement Award Recipient by the international honor society Beta Gamma Sigma. Christina Carosella, chief executive officer of Beta Gamma Sigma, will be present in recognition of this significant achievement.
This tremendous honor will be celebrated in conjunction with IIT Stuart's celebration of the 125th Anniversary of Illinois Institute of Technology and recognition of the 2015 Beta Gamma Sigma student and faculty inductees. The schedule of events is below:
3-4 p.m. | Beta Gamma Sigma Induction Ceremony
New student and faculty inductees will be individually recognized.
4-6 p.m. | Business Achievement Program and Reception
The program will begin at 4:30 p.m., with a reception to follow.
RSVP is requested by Friday, April 24, 2015.
Register online here, contact 312.906.6500 or communications@stuart.iit.edu.
Calamos is founder, chairman, CEO and global co-chief investment officer of Calamos Investments, LLC, in Naperville, Ill. He serves as an Illinois Tech Trustee and member of the IIT Stuart Board of Overseers. In 2011, Calamos established endowed chairs in business and philosophy with his wife Mae as part of their $10 million gift to the university.
Beta Gamma Sigma is the international honor society for programs that are accredited by the Association to Advance Collegiate Schools of Business (AACSB) — a distinction earned by less than five percent of the world's business schools. Membership in Beta Gamma Sigma is the highest academic recognition for business students. The Business Achievement Award is given annually to a global business leader based on nominations from more than 500 global collegiate business school chapters of Beta Gamma Sigma. Previous recipients of this award have included the Chairman and CEO of TIAA-CREF, President of S&P Capital IQ, the Executive Vice President of Merck, the Chairman and CEO of Steel Dynamics, Inc., and many other distinguished business leaders.