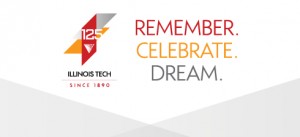 In 1890, Frank Wakely Gunsaulus dreamed of providing an education for the residents of Chicago. Thanks to a gift of $1 million from Philip Danforth Armour, a significant amount of money at that time, Armour Institute was founded. Five years later, Lewis Institute was founded through an estate gift by Chicagoan Allen C. Lewis. In 1940, these two institutions merged to form Illinois Institute of Technology.
In 2015, the university will celebrate its 125th anniversary with special events throughout the year. The first of these is a gathering on the afternoon of Friday, January 23 at Galvin Library from 3-6 p.m. Learn some of the fascinating details about our past, play IIT trivia games, and get a glimpse of student life throughout the decades. You can find more details about this event and our history on the 125th anniversary website.
Keep checking the website for the dates of other events and activities—and for new additions to our photo gallery.