The IIT offices of Spiritual Life and Service Learning, Access Card and Parking Service, Campus Life, and Dining Services will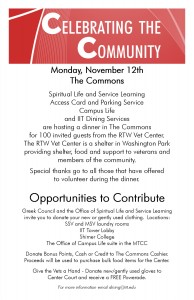 host a dinner in The Commons for 100 invited guests from the RTW Vet Center at 7:30 pm on Monday, November 12.
The RTW Vet Center is a shelter in Washington Park providing shelter, food, and support to veterans and members of the community. We are proud to join forces for our neighbors in need. Special thanks to all those who have offered to volunteer during the dinner.
There are still opportunities for you to contribute to this worthy event. The Greek Council and the Office of Spiritual Life and Service Learning invite you to donate your new or gently used clothing. Drop-off locations are the SSV and MSV laundry rooms, IIT Tower Lobby, Shimer College, and the Office of Campus Life suite in the MTCC.
You can also donate Bonus Points, TechCash, cash, or credit to The Commons cashier. Proceeds will be used to purchase bulk food items for the center.
If you give the vets a hand by donating new or gently used gloves to Center Court, you'll receive a free Powerade Fruit Punch!
For more information, contact dining@iit.edu.