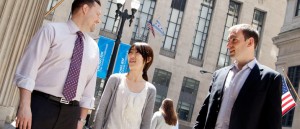 IIT Stuart School of Business announces a new customization to the Public Management Certificate Program, allowing participants to focus specifically on public transit management. This emphasis area is designed to provide career development for Metra, PACE and CTA employees in the Chicagoland area.
The certificate consists of four courses taken over four consecutive semesters beginning in fall 2013 with participants advancing through the program as a cohort. Held one night each week at the Downtown Campus, classes will cover a range of topics, including the financial management process, HR planning and recruiting, and policy evaluation analytics. All courses will include case studies and real-world examples from public transit organizations.
The certificate is being offered through the IIT Stuart Master of Public Administration degree program, and completed courses can count toward the full MPA degree upon fulfillment of admission requirements. Participants may also be eligible for tuition reduction.
Applications will be accepted through Monday, July 1. For more information, please contact Roland Calia, director of IIT Stuart's Graduate Program in Public Administration, at rcalia@stuart.iit.edu.
Learn more about how the IIT Stuart MPA program prepares students for the next economy, developing the knowledge, skills and professional network to have a strategically competitive advantage throughout their careers.