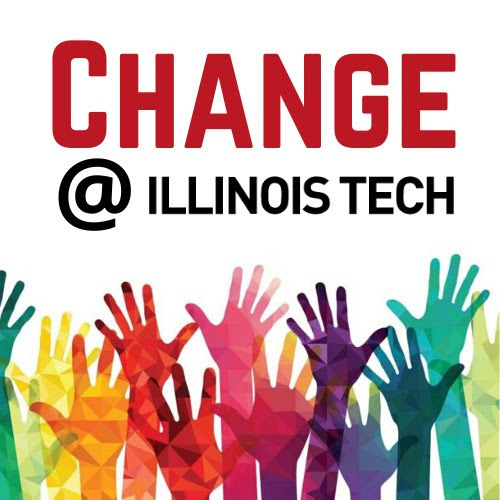 Why Are We Doing This?
Recent events have highlighted a number of pressing and relevant issues affecting the lives of traditionally marginalized minorities, Black Americans being at the forefront of this issue. Whether or not you have seen or experienced racial inequality or social inequality, these problems do exist, and Illinois Institute of Technology is not immune to them.
What Is Our Goal?
The goal of the 
Change@IllinoisTech
idea
 initiative is to develop 
ideas
 and solutions to some of the different problems that are impacting our society, and then implement them on the Illinois Tech campus to help combat systemic racism and implicit bias in our global community. We are looking for ways we could address these problems at the university so that we can be a healthier and more culturally supportive campus.
Timeline
In this 
idea
-incubator approach, student teams will develop their 
ideas
 in phases. Students will also gain the opportunity to work with faculty and student liaisons to further develop their plans for implementation.
Phase 1: Initial Submission—Friday, July 17
Phase 2: Consolidation and Solution Development 
Google Form Submission—Friday, July 24
Virtual Opening Event—Monday, July 27
Phase 3: Presentation
Google Form Submission—Friday, August 28
Presentation Day—Monday, August 31
Phase 4: Implementation—Tuesday, September 1
Epilogue Phase: Team Follow-Up/Impact Report—May 2021
This idea-incubator is:
Open to all current and incoming students (This campus is yours now, too!)
Six weeks long, from July 17–September 1 (four main phases)
Applicable to individuals or groups
How to Become Involved
Go to 
sga.iit.edu
 and apply through the Google form link located within the 
Change@IllinoisTech
idea
 article. Remember, for this first phase, all you need to do is to define a problem statement.
Outcome
Student teams will partner with the Illinois Tech Student Government Association and work on implementing this 
idea
 throughout the 2020–21 school year.
In addition, Provost Peter Kilpatrick will volunteer his time to meet with teams once or twice a month to discuss a progress update.