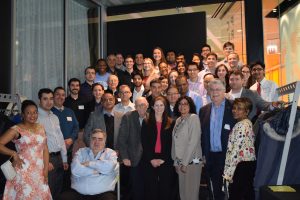 Congratulations to the Chemical and Biological Engineering (ChBE) Alumni Awards Winners.
The ChBE Alumni Awards Dinner was held on April 19 in the Pritzker Club and hosted by the AIChE-IIT student chapter. Many students, faculty, staff, and guests attended.
The following students and faculty were recognized:
McCormack Award – Ashley Su-Wan Dan
Faculty Choice Award for Academic Excellence – Mark Sivak
Faculty Choice Award for Undergraduate Research – Akalanka Tennakoon
Hamid Arastoopour Excellence of Teaching Award – Donald Chmielewski
Teaching Assistant Award- Denizhan Yilmaz
Alumnus Award – Scott Zhang
Alumna Award Danielle Tullman-Ercek
The Alumni Address was given by Scott Zhang, president of Honeywell Technology Solutions and Danielle Tullman-Ercek, associate professor, Department of Chemical and Biological Engineering, Northwestern University.
Thank you everyone who attended the dinner.